COVID 19 Information
Reservations
Great news we are open again from the 19th May on a Bed and Continental Breakfast Basis 
The New Inn Inn may look a little different from the last time you visited us, but we hope it will feel the same. Our staff will continue to be the people delivering the same attention to detail and personalised service that you are used to here at The New Inn.
We want to reassure you that we are putting measures in place to keep you and our teams safe so that you can confidently enjoy your time with us.
The changes and restrictions in place are to comply with government regulations and our own cautious approach in keeping guests and staff safe from Covid-19.
Extra Hygiene Measures
In addition to our normal high levels of hygiene we shall:
Use sanitising and disinfectant products throughout the hotel that are proven to be effective against COVID-19.
Implement a regular focussed clean across all the high touch point areas in the public areas and guest bedrooms
Provide hand sanitiser stations in the public areas of the hotel for guests and staff use
Provide single-use printed material where possible and our menus will all be available to download from our website
Continue to launder all bedroom linen offsite with a leading commercial provider to Hotels and the NHS
Spend additional time in preparing bedrooms to sanitise every touchpoint and surface
Restaurant tables and chairs will be fully sanitised between each sitting
Residents will be encouraged to use their own bathroom facilities to reduce visits to the public toilets
All staff members will receive additional training on keeping you and themselves safe. This will be reflected in how they interact with you during your stay.
Our Front of House, Housekeeping & Kitchen Team will wear appropriate PPE to protect both our guests and them whilst working on duty.
Floor Map
Our new layout is shown below (this may change as receive more up to date guidelines).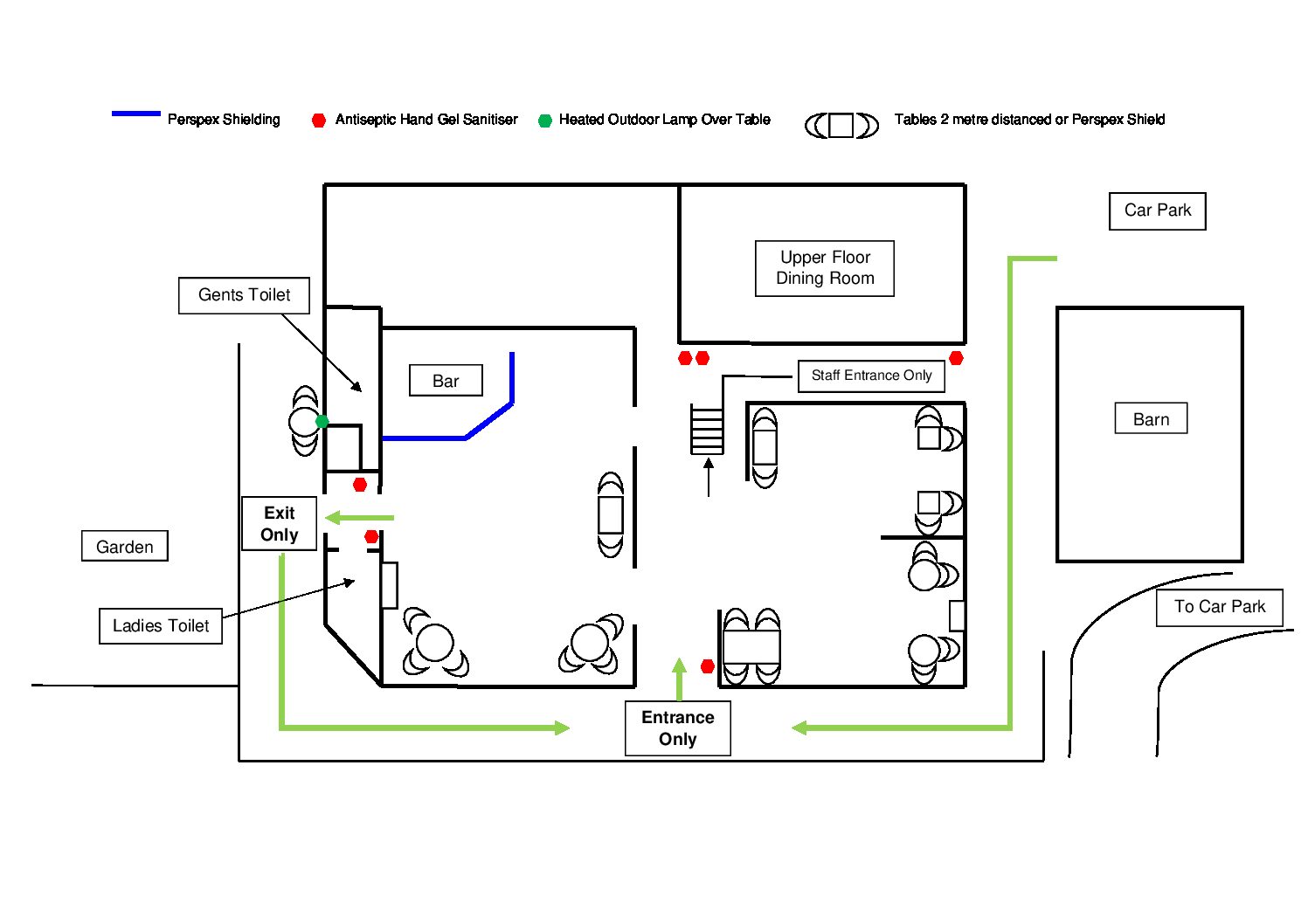 Booking A Room & Arriving
Booking A Room & Arriving 
When booking your stay, we will discuss with you your dining arrangements for the length of your stay for both Dinner (not currently available) and Breakfast and the options available to you, including in-room dining.
We shall confirm your booking back to you and let you know the new arrangements for check-in in order to maintain social distancing
Guests can check in from 15.00 and an approx arrival time can be confirmed
We can provide a pre-arrival check-in to the hotel and will provide an arrival pack containing your sterilised key.
The card used for deposit payment will also be the card charged on checkout unless otherwise stated
Deposits will be charged at 35% on booking but will be fully refundable up to 48 hours prior to arrival, bookings cancelled less than 48 hours to arrival will have the deposit refunded if the room is re-let. (this is for 1-3 bookings, for larger bookings see our website) All cancellations must be confirmed via email.
Food & Beverage Changes
Our Menus have been carefully put together reducing the number of dishes and avoiding buffets at breakfast whilst still achieving the high quality we pride ourselves on.
We have removed many of our tables from the hotel to enable us to have effective distance between diners
Table reservations must adhere to government guidelines i.e. the party must be from the same home or social bubble up to a maximum of 4 people
To dine at the hotel you must make a reservation and due to restrictions priority will be given to residents but we shall have other tables available for non-residents.
All drinks will be served at the table. No drinks will be able to be consumed at the bar.
We will operate as a "cashless" business upon reopening.
Breakfast will be available each day to residents but without the open buffet. There will be an option of taking a continental breakfast in your bedroom.
We are also looking at offering outside dining (weather permitting) subject to operational restrictions and government guidelines.
Functions will not be permitted until Government guidelines change regarding social distancing.